Tinkerer tailors a solution for property owners to save on water bills
Plumber Dave Hogan set up Smart Flow, a water technology business that helps identify leaks and other issues to cut out water waste

Technology Correspondent@emmetjryan20th September, 2020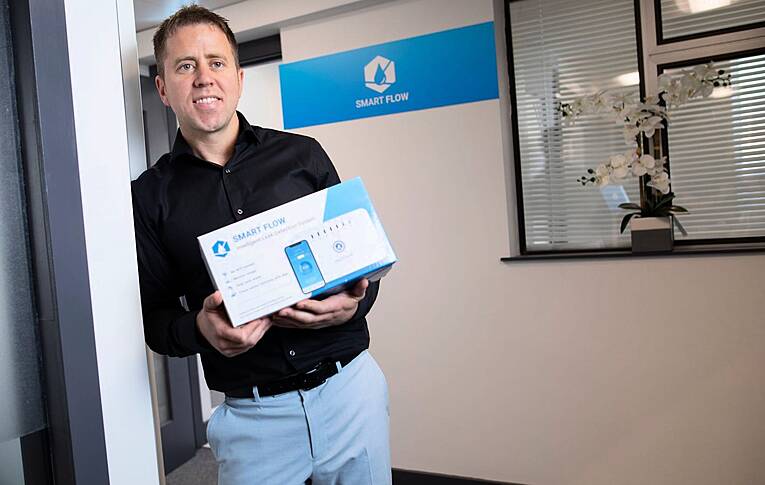 The easier option for Dave Hogan would have been to stand still in 2016. He had spent 14 years as a plumber, eight of those running his own company, and had built up a solid business.
Hogan is a natural tinkerer, however. He saw there was an issue he could address before people in his line of work were normally called and that set him on the path to start Smart Flow.
The water technology business offers real-time monitoring of system issues, such as excessive usage and leaks, to any business or property.
It came about because Hogan couldn't find anything suitable to make it easier for his clients to know when they were wasting water.
"I saw the same problem on a daily basis and, about four years ago, I went out looking for a solution for customers. I just couldn't find anything on the market," Hogan told the Business Post.
"I wanted a product I could give to the customers. If I couldn't find a product that I trusted, I knew there was a gap in the market."
Starbucks and the Chawke Group, which runs pubs such as Searson's and The Goat in Dublin, are among Smart Flow's growing customer base.
"Our product can provide anything from a 30 to 80 per cent saving on a water bill for a commercial business," Hogan said.
"We want to be the number one water management company worldwide. We know water inside out, we know the gaps, and we have a solution."
Based out of Skerries in Co Dublin, the company has five staff at present and is looking to scale up.
"Everybody is blind and oblivious to how water flows in a building. Our device gives an inside view into what is happening within the pipework."
Right combination
Hogan spent six months researching flow sensor technology and leak-detection systems as he sought to work out what would give customers an understanding of what was going on with their pipes.
In his garage he set up a rig to test different products and ideas, trying to find the right combination of tools that would get the job done. From there he drew up the specifications he needed and went on a mission to find the right people to build it.
"I outsourced. I went out and found a product development team, flow-sensor manufacturer, a mobile app development company and a cloud data company. I project managed them," said Hogan.
Smart Flow installs an ultrasonic flow sensor which goes on the incoming water mains with an electronic shut-off valve.
It gets connected to the cloud via mobile networks, deliberately avoiding wifi to make it easier both to set up and be managed by the customer.
The end user will be able to view what is happening in real time via a desktop application, including the water usage costs being incurred. If a leak is spotted, the user can turn the water off.
"It was a steep learning curve building the product but it was great. Then I needed to go on another team-building mission to commercialise it."
Having initially targeted the residential market, Hogan quickly saw that he had a much better opportunity for commercial businesses, particularly the hospitality sector.
That took off with big clients such as Starbucks but Smart Flow is broadening its horizons through the pandemic. Hogan sought to use the current crisis as a chance to reflect and better establish the brand.
"There was an international water tech challenge in the US. We went on and won it and then we pivoted into the agri-tech, retail, manufacturing and corporate sectors. They were all on the road map but we needed to accelerate," Hogan said.
Having recently added a specialist in business development to the company, Hogan's eyes are focused on scaling the firm internationally. He is also looking to grow his in-house tech team to manage new customers.
"We have a lot to do in Ireland first. The organic growth from there is Britain and we are looking at joining up with some partners to expand there. There is big interest from the US as well," he said.
"We don't want to grow too quick. It needs to be organic. We are looking at what opportunities we want to take that will enable us to grow at a pace that works."
Calm confidence
The ambition from Hogan comes from a calm but unmistakable confidence. He's focused, he doesn't let hype distract him. His manner is one of a man who would tell you what groceries need to be bought with the same emphasis as what is needed to scale a company internationally.
"We have mostly bootstrapped to date. We have a few angel investors who have come on board but we're going for a big raise in 2021," said Hogan.
"It's hard to put a figure on it as I want to maintain founder equity while still having the trajectory to grow and scale. What we're going for is changing on a weekly basis as we want to make sure it's the right opportunity."
Having only conceived the business four years ago, with the classic romantic tech founder story of building it out of a garage, it's a surprise to learn that Hogan doesn't relish the start-up tag. He wants to shed it, to show the business has maturity and is already delivering.
"We want to lead the way. We can show what we are doing and how it is making a difference," he said.
This maturity has mattered more during the pandemic. Smart Flow had many installs postponed in the hospitality sector but Hogan was wise enough to see that it meant he could focus on growing in other industries.
As the coffee shops and pubs started to reopen, Smart Flow was able to take that business back on while continuing to expand and take advantage of opportunities.
"We are doing a lot of installs in retail and public bodies at the moment. If Covid-19 hadn't hit, probably all our resources would have been in hospitality. We wouldn't have been in those other sectors as soon."
The manner in which he made the leap into starting Smart Flow has helped him manage the growth of the business during the pandemic.
He made a decision four years ago to focus on this company while maintaining the plumbing business with other staff managing its day-to-day operations. It is still going while he continues to press on with Smart Flow.
"I was naive going into it but I was better off because I had to find a way through it. I knew how to manage a team in the plumbing company so I knew how to use that to build Smart Flow," he said.
"I was initially hands-on with the customer when we started to do installs as I got to understand what they needed. The team tries to get me off the tools but it's hard for them, I like to get my hands on. That's always going to be in me."
Looking ahead, despite the pandemic, Hogan is confident the business can make real strides over the next year and a half.
"We have a first-mover advantage. There are companies looking at what we do, multinationals with big budgets but money can't guarantee that they'll be able to do what we do," he said.
"There's a lot of moving parts. We're unique, we built out of experience. That has allowed us to move quickly."